The significance of a software provider cannot be overstated. By crafting the best casino software, these providers ensure smooth gameplay and lay the foundation for security, aesthetics, and overall user experience. From the graphics and sounds to the algorithms that ensure fairness, a lot rests on the robustness of the software at play.
As the industry grows, so does the importance of understanding its key players. Software developers are the unsung heroes behind the scenes, tirelessly innovating and refining their craft. For gamers, stakeholders, and newcomers to the world of online casinos in Quebec, this guide serves as a comprehensive look into the magic behind the virtual curtain.

The Best Software Providers at Quebec Online Casinos
The Quebec casino scene is enriched by the contributions of several top software providers. This guide aims to shed light on the best providers that play a pivotal role in enhancing the playing experience for gamers in QC. From slots to table games, the diverse offerings of these providers ensure that gamers have a vast selection of options.
Playtech

Playtech stands as one of the premier names among top developers. Founded in the Isle of Man, Playtech's reputation has been built on offering a diverse array of gambling products and solutions. This ranges from online casinos to mobile platforms and includes notable slots inspired by famed comics and movies. Slots such as "The Matrix," "Iron Man," and "The Incredible Hulk" are testament to their creativity and prowess. Some of the renowned Playtech titles with bonus spins include:

Age of the Gods (RTP: 95.02%)
Green Lantern (RTP: 94.95%)
Frankie Dettori's Magic Seven (RTP: 95.99%)

In QC, the Greatwin Casino is one of the establishments where enthusiasts can indulge in Playtech offerings.

Microgaming

One cannot discuss the best casino software providers without mentioning Microgaming and its bonus spin features. With its inception in 1994, Microgaming is recognized as a forerunner in introducing casino titles. Today, their vast library, spanning over 600 slots, is a testament to their continued dedication to providing top-notch experiences for gamers. Iconic slots from Microgaming include:

Mega Moolah (RTP: 88.12%)
Jurassic Park (RTP: 96.67%)
Thunderstruck II (RTP: 96.65%)

NetEnt

Since 1996, NetEnt has been synonymous with innovation and excellence in the realm of software developer companies. Their visually captivating offerings, ranging from video slots to table games, have ensnared gamers globally. NetEnt's slots, such as "Starburst," "Gonzo's Quest," and "Twin Spin," are among the most sought-after titles in 2023 due to their bonus spins nature. Highlighting some of NetEnt's slots:

Jack Hammer 2 (RTP: 97.10%)
Gonzo's Quest (RTP: 96.00%)
Starburst (RTP: 96.01%)

IGT

International Game Technology (IGT) stands tall among software developers, especially in the domain of slot machines. Established in 1975 as Gtech, IGT has transformed, but its commitment to excellence remains steadfast. Slots like "Cleopatra," "Siberian Storm," and "Wheel of Fortune" reflect their prowess in the bonus spins design. Key slots from IGT include:

Cleopatra (RTP: 95.02%)
Wheel of Fortune on Tour (RTP: 96.60%)
Siberian Storm (RTP: 96.00%)

Play'n GO

Play'n GO is a shining name in the list of top software developers. Their extensive experience is reflected in their expansive game catalogue, covering slots, bingo, video poker, and more. Slots like "Book of Dead," "Fire Joker," and "Moon Princess" showcase the finesse of this software provider. Play'n GO's popular slots include:

Book of Dead (RTP: 96.21%)
Fire Joker (RTP: 96.15%)
Moon Princess (RTP: 96.20%)

The Quebec gambling scene thrives because of the invaluable contributions of these leading software providers. With their unique titles and innovations, each of them ensures that players have a rich and varied playing experience.

What Makes a Software Provider Stand Out?
Canada's booming gambling industry is flush with software developers, each vying for a top spot in players' preferences. But what truly distinguishes the best providers from the rest? Beyond the technical expertise, it's the nuances they bring, like blending local culture into game designs. By deeply integrating the rich Canadian tapestry of traditions and nuances, they offer games that resonate and evoke a sense of familiarity among gamblers.
Integration of Local Culture in Game Design
Immersing players by echoing local sentiments is a hallmark of excellence. Certain game designs subtly incorporate elements that reflect QC's diverse culture and traditions.
Cultural Essence: Some titles, for instance, may revolve around QC's historic festivals, its iconic winter landscapes, or the vibrant arts scene. This attracts local gamers and gives international gamers an insight into Quebec's culture.
Language Considerations: With Montreal's Bill 96 emphasizing French as the primary language, some software providers ensure their offerings are available in impeccable French, catering to the linguistic preferences of the local population.
Local Collaborations: Ties with local institutions, like the game development program collaboration between Ubisoft and Concordia, showcase investment in cultivating and integrating local talent. Such partnerships not only enrich game content but also foster community engagement.
However, the Canadian gambling industry is not without its challenges. The sector has been grappling with issues like workforce retention. The high-demand nature of the industry, coupled with long hours, especially during "crunch time," makes it difficult to retain talent. Jonathan Lessard, an associate professor at Concordia University, highlighted that many young developers transition to other sectors despite their initial passion as they progress through different life stages.
The pandemic further amplified these challenges. It underscored the need for work-life balance, propelling companies to re-evaluate their traditional working models. The shift towards hybrid work models has been instrumental in addressing these concerns.
While the best software developers strive to offer top-notch playing options that reflect local culture, fostering a sustainable work environment remains equally crucial for the growth and success of the casino industry.

The Evolution of Casino Software
The casino scene in Canada has experienced a profound metamorphosis, particularly in the domain of virtual casino software. Guided by technological innovations and changing regulations, software developers have continuously adapted to provide a state-of-the-art playing experience for users. This evolution has carved out a niche for QC in the global software industry landscape.
Brief History of Online Gaming in Canada
Tracing the history of online gambling in Canada, it's evident that the country has been proactive in establishing and regulating its online casino industry. In December 1992, in QC, the green light was given to construct two government-run casinos. The first, located on Île Notre-Dame in Montreal and the second at Pointe-au-Pic in the Charlevoix region, marked significant milestones.
Loto-Québec, the primary government corporation overseeing gambling, delegated responsibilities to various subsidiaries. While Société des casinos du Québec Inc. took charge of constructing and operating the casinos, Resto-Casino Inc. managed the restaurants and bars within the casino premises. Casiloc Inc. bore the responsibility of further development and oversight of casino facilities.
How Tech Innovations Shaped the Casino Landscape
The digital revolution has immensely influenced the gambling software industry. Innovations introduced by casino game developers have streamlined operations and significantly enriched the playing experience.
Mobile Gambling

With technology evolving, online gambling has become increasingly accessible on mobile devices, allowing gamblers to engage anytime, anywhere.

Virtual Reality (VR)

A transformative innovation, VR has redefined user experience. Instead of traditional 1D or 2D games, VR-equipped games, with headsets and other gear, offer a fully immersive virtual world. This technology promises top-notch game design, superior sound, and enhanced graphics, captivating a broader audience.

Blockchain Technology

The gambling industry has also felt the ripples of the blockchain wave. This technology, supporting cryptocurrencies like Bitcoin and Ethereum, is potentially revolutionizing payment methods within online gambling sites, offering unparalleled convenience to gamers.
Impact of Regulations on Software Development
The development of online casino software in QC is closely tied to the regulatory landscape, with rules and amendments shaping the industry's trajectory.
The passing of Bill C-218 in 2021 marked a watershed moment, amending the Criminal Code to legalize single-event sports betting. This change spurred interest in the broader online gambling sector, prompting provincial governments to update gambling regulations and foster a competitive market.
With the expansion of the online gambling market, there's been a heightened focus on responsible gambling. Collaborative efforts between industry stakeholders and government agencies are in motion, introducing measures such as self-exclusion programs, age verification, and spending limits. Public awareness campaigns aiming to educate gamblers are also on the rise.
The landscape of digital software in Quebec is a tapestry of innovation and regulation. While software developers leverage the latest technologies to enhance user experiences, regulatory shifts ensure that the industry evolves in a balanced and responsible manner.

Technical Aspects: Behind the Scenes of Casino Software
The user experience is rooted in the technicalities that lie beneath the surface of any online casino software. This is not just about fun graphics and enticing bonuses. It's about aspects like user experience, stringent security measures, and aintegrating of advanced technologies like AI and machine learning. This section unravels the intricate technical elements that propel the gambling software industry.
User Experience and Design Elements

While flashy 3D visuals captivate gamers, usability and design are the backbone of a great playing experience. Key facets of user experience in digital casinos include:

Simplified Navigation: Modern gambling software ensures users can accomplish tasks with the fewest clicks. Whether signing up, making deposits, or game selection, quick and intuitive navigation enhances the overall experience.
Personalized Experience: This isn't just about game recommendations based on preferences. Advanced gambling software goes the extra mile. For instance, players can save games for later or even receive suggestions tailored to their playing style and history.
Feedback-Driven Improvements: Progressive online casinos value user feedback, using it as a tool to refine their platforms. Such interactive platforms retain more customers and enhance user loyalty.

Software developers are consistently prioritizing the user experience. The player's ease of navigation, design personalization, and platform interactivity are central to the success of online casino software.

Security Protocols and Data Protection

Given the sensitive nature of information that gamers share with digital platforms, security is paramount. Some essential features integrated into casino software include:

TLS and SSL Protocols: These ensure encrypted connections between the player's browser and the web server, safeguarding data from unauthorized access.
ID Verification: By requiring gamers to validate their identity through documents like passports, casinos ensure that they deter fraudulent activities and underage gambling.
Two-step Verification: This extra layer ensures that merely knowing a password isn't enough. A unique code sent to the player's mobile device provides additional security.
Reliable Payment Gateways: Modern casinos integrate secure payment methods fortified by authentication, encryption, and fraud detection tools.

Any software developer worth their salt will embed these advanced security measures to protect player data and ensure trustworthiness.

The Role of AI and Machine Learning

AI and machine learning are rapidly finding their way into the fabric of online casino software, revolutionizing various facets of the playing experience. Their applications include:

Enhanced Playing Experiences: AI algorithms curate personalized game suggestions based on user behaviour and preferences. Moreover, AI-driven tools work tirelessly to optimize user interfaces and improve overall user experience.
Real-time Assistance: Advanced casino software employs AI-powered chatbots that offer instant help, answering player queries and aiding in navigating promotions or game rules.
Gamification: Through AI, software developers have introduced game-like elements, from challenges and leaderboards to rewards, making online gambling even more engaging.
Predictive Modelling: AI employs various techniques, including machine learning and natural language processing, to predict user preferences and deliver custom promotions and bonuses.

By weaving AI and machine learning into their platforms, developers are ushering in an era of personalized, safe, and immersive overall experiences.
At its core, the essence of software is far more than meets the eye. It's a blend of user-centric designs, unyielding security protocols, and the power of AI and machine learning that collectively shape the gamer's experience. As the digital realm of casinos evolves, these technical facets will continue to play a pivotal role in defining the industry's trajectory.

Mobile Gaming: The New Frontier for Quebec's Casinos
The dawn of mobile gaming has ushered in a transformative era for Quebec's online casino industry. With the rapid evolution and early adoption of mobile-first technology, the landscape of casino gaming has changed remarkably.
The gambling software industry has embraced a mobile-first approach, increasing accessibility and convenience for players. This article delves into this approach's implications and its many benefits to players and software developers.
Mobile-First Game Development Approach

The mobile-first game development approach prioritizes designing games specifically for mobile platforms before adapting them for larger screens. This approach was fundamental for QC's casinos during the quarantine periods, allowing adults to engage in mobile gambling privately. The digital gambling software industry has experienced exponential growth due to its timely pivot to this methodology.

Benefits of designing titles for mobile platforms:

Convenience and Accessibility: Players can enjoy titles from any location without downloading.
Optimized User Experience: Mobile-oriented software for gamblers automatically adjusts to different mobile device screens, offering the most convenient experience for gamers.
Speed: Fast download speeds and seamless gameplay enhance user satisfaction.

How Mobile Gaming is Changing User Habits

Mobile gaming's proliferation has significantly influenced user habits in Canada. The convenience of accessing games on the go has widened the age range of online casino gamers. According to Statista's data from 2017, players aged 25 to 34 form the largest segment at 33.2%.

However, mobile gambling has made it easier for other age groups to join in, with significant numbers seen in the 35-44 and 18-24 age brackets, at 25.1% and 22.4%, respectively.

Benefits of Mobile Casino Software

Mobile gambling software brings many benefits, not just for gamers but for providers as well. Recognizing these advantages, many digital software developers have shifted focus to prioritize mobile platforms. Advantages include:

Playing On The Move: Providing players the flexibility to play from anywhere.
Enhanced Security: Mobile platforms often offer a higher level of security, safeguarding player data.
Diverse Features: Mobile platforms introduce unique features tailored for smaller screens and touch interfaces.
Varied Payment Options: By integrating payment methods like Bitcoin casino software, gamblers have a wider and more secure range of payment choices. Also, they can claim bonuses with ease as they make deposits on mobile platforms.
Community Growth: The ease of mobile gamers attracts a broader user community, fostering a more connected player environment.
The Canadian online casino industry, backed by the innovations of software developers, is experiencing a paradigm shift. As technology advances, the future of casino gambling in Canada looks promising, with mobile platforms at the helm of this transformation.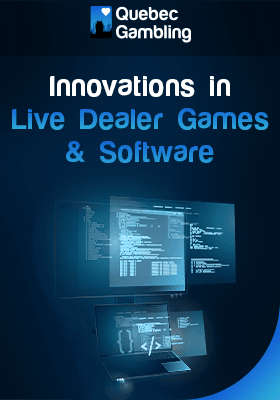 Live Dealer Games and Software Innovations
The world of online casinos in Canada has seen the meteoric rise of live dealer offerings, a revolution backed by avant-garde software technologies and real-time streaming. As casinos, especially in QC, embrace this trend, players are introduced to an experience that merges the vibrancy of physical casinos with the comfort of online playing. This section aims to unpack the nuances of live dealer games and the underlying software innovations driving them.
Introduction to Live Dealer Games
Live dealer titles meld the rich tradition of casino entertainment with the advancements of modern technology. They are digital renditions and immersive experiences that transport gamers directly from their homes to premier casinos' lively ambiance.
At the core of this offering is the unique combination of real-time interaction with human dealers and the use of tangible casino equipment. Instead of relying on digital graphics or automated processes, players witness real cards being dealt, real roulette wheels being spun, and genuine dice being rolled, all streamed live.
Here's a quick look at the most popular live dealer game categories:
Poker: A game of strategy and nerve, brought to life by a real dealer in real time.
Baccarat: A card game classic, reimagined and revitalized through live interaction.
Blackjack: The timeless endeavour of hitting the 21 becomes even more exhilarating as a live dealer guides each and every round.
Software Behind Real-time Streaming
The immersive world of live dealer games is made possible by sophisticated software technology that powers real-time streaming. This isn't merely a feat of broadcasting a video feed; it's about ensuring that players worldwide can engage, make decisions, and react as if they were sitting at a casino table. Delving into the technical intricacies of the streaming platforms:
Latency: Lower latency ensures a near real-time playing experience.
Quality: Crisp, high-definition streaming that captures every shuffle, deal, and spin with unparalleled clarity.
Stability: Seamless and continuous streaming is paramount. No game should be marred by pauses or buffering.
Security: A vital aspect of all gambling software, safeguarding players' data and ensuring a fair game.
Understanding the varied approaches to real-time video streaming:
HLS & DASH: These adaptive streaming technologies dynamically adjust video quality based on a user's internet speed.
WebRTC: A popular choice for its direct peer-to-peer communication and minimal latency.
WebSocket: Providing interactive communication sessions, allowing immediate, two-way data exchange.
HESP: This emerging protocol prioritizes both reduced latency and high-quality streaming.
When combined efficiently, these technologies enable software developers to equip their live casino software with an experience that's not just interactive but also authentic and reliable.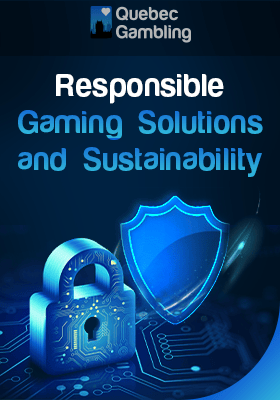 Sustainability and Responsible Gaming Software Solutions
The casino industry in Quebec has seen a revolution not just in terms of innovations but also in how it prioritizes sustainability and responsibility. Digital gambling software is now more than just about the playing experience; it's about creating a safe environment for players, respecting societal norms, and upholding ethical considerations.
In this exploration, we explore the tools that foster responsible gambling in Quebec, the ethical nuances of game design in QC, and how collaborations with problem gambling institutions enhance accountability.
Software Tools for Responsible Gambling
Online gambling software is pivotal in ensuring players indulge in gambling responsibly. The best casino software integrates features designed to safeguard players from the potential pitfalls of excessive gambling. Among the myriad of responsible gambling tools, some of the prominent ones include:
Age and Identity Verification: KYC (Know Your Customer) processes ensure that underage players are restricted, preventing underage gambling.
Financial and Time Limits: These limits empower players to manage their gambling habits, ensuring they do not overextend in time or money.
Self-exclusion and Time-out Controls: Offering players the ability to step back and take a break when needed.
Reality Checks: Intermittent reminders for gamers to evaluate their playing habits and time spent.
Tools such as Gamblock go beyond mere reminders. This self-sufficient software restricts access to online gambling platforms altogether, ensuring that problem gamblers can self-exclude effectively. Meanwhile, Gamban offers a device-level restriction, acting as a protective shield against potential gambling sites.
The Ethics of Game Design in Quebec
Quebec's gambling landscape is not merely about profit; there's a strong emphasis on player well-being and societal considerations. Gambling software companies are increasingly focusing on embedding ethical principles into their game designs:
Informed Consent: Ensuring players understand the terms of gameplay, risks, and potential costs.
Promoting Inclusivity and Diversity: Game designs that respect and represent all segments of society.
Representation: Creating titles that are culturally sensitive and diverse in character portrayal.
Accessibility: Ensuring all products are accessible to individuals regardless of physical or cognitive challenges.
Player Health: Integrating breaks and reminders ensures players maintain a healthy balance between playing and other activities.
Microtransactions and Loot Boxes: Making certain that these elements are transparent and fair without exploiting players.
Games are also taking a front seat in addressing societal issues. From positive social influences that foster community spirit to tackling controversial topics head-on, game developers recognize the broader impact their creations can have.
Partnerships with Problem Gambling Institutions
The commitment to responsible gambling in Canada is a collaborative endeavour. Casino software companies actively seek collaborations with institutions that address problem gambling. These partnerships underline a collective commitment to ensuring that the online gambling ecosystem remains a safe space for gamblers.
From shared initiatives that enhance online payment protection to creating a secure online environment, these collaborations emphasize protecting vulnerable gamblers, preventing underage gambling, and instilling safety measures against potential criminal activities.
By intertwining software capabilities with institutional expertise, the gambling industry in QC stands as a testament to how technological advancements and ethical considerations can coexist harmoniously.
With these strides in responsible gambling and ethical game design, the Quebec industry continues to set a benchmark for others. The blend of technology and ethics showcases how the future of playing is not just about entertainment but about creating lasting positive impacts.
Future Projections: What's Next for Canadian Online Casinos?
The Canadian online casino landscape is on the cusp of experiencing a wave of technological innovations, reshaping the future of gambling. As gambling software evolves, so does the player's experience, pushing the boundaries of what was once thought possible. The future looks promising for online casino enthusiasts in Canada, particularly in QC, from immersive environments provided by virtual and augmented reality to the deeper integration of social media platforms.
Emerging Technologies in Casino Software

Online casino software is no longer just about the games themselves; it's about delivering a comprehensive, cutting-edge experience. Several emerging technologies promise to play a significant role in shaping this future:

Mobile Casino Revolution: The proliferation of smartphones has spurred software developers to optimize the playing experience for mobile platforms, ensuring gamers can indulge anytime, anywhere.
Blockchain and Cryptocurrencies: Introducing decentralized transactions, enhancing security, and providing more transaction transparency.
Artificial Intelligence (AI) in Online Gambling: AI's role is multifaceted, from enhancing game dynamics to improving user experience and security.
Enhanced Security Measures: With online threats becoming sophisticated, virtual casino software integrates advanced protective measures to ensure player safety.
Eco-Friendly Initiatives: Recognizing the global push towards sustainability, online casino platforms are exploring ways to reduce their carbon footprint and promote green initiatives.

With the advent of 5G connectivity and the Internet of Things (IoT), online casino software will likely leverage these innovations, offering gamers even richer and more responsive player environments.

Virtual Reality and Augmented Reality in Gaming

Virtual Reality (VR) and Augmented Reality (AR) are transformative forces in digital casinos. They provide avenues for unprecedented immersion and interactivity:

VR Casino Games: Gamblers can enter online casinos, interacting with games and other players as if they were in a physical space. This heightened experience promises to redefine what it means to "visit" a casino.
AR Enhancements: By merging virtual elements with the real world, AR brings a fresh dimension to gaming. Imagine playing a slot machine with augmented animations popping out of your screen, making the experience more thrilling.

Both VR and AR bridge the gap between reality and the virtual realm, providing gamers with the best experiences that were previously the stuff of science fiction.

The Blending of Social Media and Casino Games

Social media's ubiquitous presence in our lives isn't lost on software brand names. Their integration approach is twofold:

Promotions and Engagement: Virtual casinos use platforms like Facebook, Twitter, and Instagram to launch promotions and contests and maintain customer engagement.
Collaboration with Influencers: Social media influencers, armed with their vast followings, are becoming crucial partners for online casinos. Their game reviews, event coverage, and promotional content are pivotal in shaping player perceptions and choices.

By seamlessly blending the online casino experience with social media, gamers get an enhanced playing experience and a more connected and community-driven one.
As the boundaries of what's possible expand, so will the offerings of online casinos in this province. These advancements, driven by online software developers and the ever-evolving tech landscape, promise a future where playing experiences are more immersive, secure, and socially connected than ever before.
User Insights: What Gamers Want
Understanding the pulse of the gaming community is essential for any casino game provider. In Quebec, players' preferences and feedback significantly shape online casino software development trajectory. It's not just about creating games; it's about creating experiences that resonate with users and cater to their ever-evolving tastes.
Preferred Types of Casino Games in Quebec
With its vibrant gamer community, this province has seen certain casino game categories rise to prominence. These preferences can be attributed to factors such as gameplay mechanics, visual appeal, and potential payouts:
Table Games: Encompassing the classic ambiance of traditional casinos, table games like Blackjack and Baccarat have been consistent favourites.
Slot Games: These are particularly beloved for their simplicity and the thrill of chance. Whether it's classic slots that evoke nostalgia or modern variations with intricate themes, they remain a staple in most digital casinos.
Live Dealer Games: Offering a blend of digital and real-world gambling, live dealer games capture the essence of being in a brick-and-mortar casino. Players get to interact with real dealers, adding a layer of authenticity to their overall experience.
From the streets of Montreal to the broader regions of Quebec, the richness of online casinos ensures that players can access a vast spectrum of titles, catering to every preference.
Feedback and Trends from Canada's Gaming Community
To stay ahead in the competitive landscape, any astute casino game developer is keen on understanding trends and gathering feedback:
Slots Popularity: An observable trend is the continued dominance of slots, with players in Montreal showing particular interest in theme-based variations.
Live Dealer Enthusiasm: There's a growing inclination towards live dealer games, with users appreciating the human touch it brings to the online space.
Seeking Variety: Players often desire diverse in-game choices, prompting online software developers to explore innovative game mechanics and themes.
The Importance of User Feedback in Software Development
Feedback isn't just a measure of satisfaction; it's a roadmap for improvement. For a casino game provider, understanding user insights is invaluable:
Refining Gameplay: Users might provide feedback on mechanics they find cumbersome or unintuitive. Such insights can lead to critical software updates, enhancing user experience.
Thematic Adjustments: Sometimes, cultural nuances or trends can inform game themes or narratives. Feedback in this domain ensures that games resonate better with the local audience.
Technical Tweaks: Players might report glitches, lag, or other software issues. Addressing these ensures a smoother overall experience for all.
User feedback fuels the evolution of online casino software. It's a collaborative dance between developers and players, ensuring the gaming arena remains dynamic, responsive, and ever-enticing.
In the dynamic world of online casinos, understanding user preferences and integrating feedback into the software development process ensures that players always have experiences that align with their desires. The vibrant Canadian gambling scene is a testament to how developers and users co-create the future of online entertainment.
The Economic Impact of Casino Software Providers in Quebec
The influence of software providers on QC's economy goes beyond mere entertainment value. Their multifaceted impact contributes to various sectors, including employment, tourism, and government revenue. A dive into the numbers showcases these casino software companies' expansive reach and significance to this province's vibrant economic landscape.
Job Creation and Economic Growth

The nexus between online software developers and employment opportunities is undeniable:

Employment Numbers: With over 51,636 jobs created and sustained by the industry in Quebec, the sector emerges as a pivotal player in the province's job market.
Skill Development: The sector doesn't just provide employment; it fosters skill development across various domains, from software development to marketing, customer support, and management.

The ripple effects of these employment opportunities extend throughout the province, promoting economic growth and stability.

The Influence of Casino Software on Tourism

Software developers have inadvertently become ambassadors for Quebec's tourism:

Tourism Revenue: The annual tourism spending linked to Loto-Québec's gaming establishments stands at a staggering $134 million. The four casinos alone contribute significantly to this figure.
Tourist Visits: Luring 3.2 million visits yearly, these establishments aren't just gaming centers but bona fide tourist attractions.
Holistic Offerings: Loto-Québec casinos enhance the overall tourist experience with commendable dining and hotel services. The commendations received by their staff members only amplify Quebec's stature as a global tourist magnet.

With the mandate from the government, Loto-Québec has strategically positioned casinos to cater to international tourism markets, further leveraging the services Quebecers cherish and elevating the province's global appeal.

Taxes, Licensing, and Revenue Streams

The financial canvas painted by software providers in this province is an impressive one:

Tax and Licensing Revenues: While exact figures need deeper exploration, it's evident that the casino industry contributes significantly to Quebec's coffers. Licensing of the best casino software, regulatory fees, and taxes on profits constitute vital revenue streams for the provincial government.
Revenue Generation: Beyond taxation, the sheer economic activity generated by gambling software companies leads to a consistent and considerable inflow of funds.

With the strategic positioning of gaming establishments and a burgeoning online presence, online software developers have positioned themselves as central figures in Quebec's economic narrative.
The influence of casino software providers extends beyond digital screens. Their tangible economic contributions shape Quebec's landscape, driving employment, invigorating tourism, and fortifying the province's financial health. As the landscape of online gaming evolves, the province continues to leverage the prowess of these casino software companies to ensure sustained growth and prosperity.
Global Perspective: How Quebec Compares Internationally
The global gaming landscape is vast and competitive. As homegrown gaming studios in Quebec continue to dazzle audiences worldwide, it becomes imperative to understand how software providers measure up against international brand names and what sets the province's casino industry apart on the global stage.
Benchmarking Quebec's Software Providers
When examining Quebec's online software developers against international counterparts, several aspects come to light:
Innovation & Quality: The province's reputation for creativity and innovation has been cemented since the 1980s. With over 230 companies contributing to the video game industry and related fields, the province has positioned itself as a hub of excellence in gaming.
Economic Contribution: The robust industry, with more than 280 different studios, contributes $1.4 billion to the province's economy annually.
Comparatively, global giants such as Sony, Tencent, and Nintendo have had remarkable successes. For instance, Sony, the largest video gaming company in 2021, recorded a revenue of $25 billion. Tencent, primarily focused on online games, registered a revenue of $13.9 billion. Nintendo, with its timeless charm, generated $12.1 billion in revenue.
The Global Reputation of Quebec's Gaming Industry
Quebec's gaming industry isn't just a local treasure; it has garnered significant international recognition:
Recognition of Local Games: Games like Deus-Ex: Human Revolution, developed by Montreal-based Eidos-Montréal, and Kona, from Canada-based Parabole, have not only showcased Quebec's creativity but also subtly highlighted the province's culture and landscape. Ubisoft Montreal's contributions to the Assassin's Creed series further underscore the global appeal of Quebec's gaming products.
Growth & Development: Montreal's game development trajectory, which began its steep incline with Ubisoft's establishment in 1997, showcases the city's rise as a global game development powerhouse.
Lessons from Leading Casino Nations
Quebec's vibrant gaming sector has much to learn from leading casino nations and their successes:
Flexibility

A key takeaway is the need for online software developers to remain flexible, especially in attracting new players. The global shift towards digitalization underscores the future of gambling, with mobile devices broadening possibilities.

Innovation & Customer Relations

The path to innovation lies in experimentation. From the perspective of a software provider, it's essential to be forward-thinking, focusing on customer loyalty, offering great customer service, and providing the utmost convenience. For instance, the rise of Bitcoin casino software globally signifies the need to integrate new technologies and trends.

Marketing & Branding

Building brand awareness requires a holistic approach, encompassing search engine optimization, rewarding loyal customers, and leveraging social media marketing. Additionally, the international success stories reiterate the importance of keeping up with the latest technology trends.
While Quebec's gaming industry boasts impressive achievements and has made significant local and international contributions, there's always room for growth. By benchmarking against global leaders and continuously integrating lessons from their successes, Quebec can further cement its position as a leading player in the online casino software developer domain.
Conclusion
The rise of Quebec's online casino industry is a testament to the vital role online casino software plays in the economic and cultural spheres. The province has seamlessly integrated innovation, economic prowess, and international benchmarks to establish itself as a pivotal player in the global gaming arena. With the province home to some of the best casino software globally, platforms such as QuebecGambling.ca are instrumental in guiding players and stakeholders through this vibrant landscape.
The international acclaim that Canadian software providers have garnered highlights their commitment to quality and excellence. These accolades don't merely point to commercial success but, more importantly, reflect a meticulous approach to crafting immersive and unique gaming experiences.
Yet, as with all great achievements, the path forward requires both vigilance and responsibility. The onus lies with industry stakeholders, developers, and online software developers to ensure that as the realm of online gaming in Quebec continues its upward trajectory, it does so with a firm commitment to responsible gambling. This approach not only safeguards the players but also ensures that the legacy of innovation is sustained and celebrated for generations to come.
FAQ:
Who are the top three online casino software providers in Canada?

While specific rankings can vary, Canada is home to several renowned software providers. Industry leaders in the region are known for their innovation and high-quality games.

How has mobile gaming influenced the strategies of software providers in Quebec?

Mobile gaming has pushed software developers in Quebec to prioritize responsive design and create games optimized for handheld devices. As a result, they focus on seamless user experiences across platforms.

What security measures are paramount for online casino software?

Implementing advanced encryption protocols and multi-factor authentication is crucial for online casino software. These measures protect player data and ensure safe financial transactions.

How do live dealer games enhance the online casino experience?

Live dealer games offer players an immersive experience, bridging the gap between online and physical casinos. They provide real-time interaction, bringing authenticity and human touch to virtual gaming.

What are the ethical considerations for online casino game providers in Canada?

Online casino game developers in Canada must ensure fairness in gameplay and promote responsible gambling. Additionally, they should prioritize user data privacy and avoid any predatory practices.