By aligning with international standards, Blueprint Canada has played a pivotal role in shaping the online casino landscape in the region. This transformation isn't just about providing state-of-the-art slots; it's about setting the benchmark for quality, fairness, and entertainment.
At QuebecGambling.ca, the aim is to present readers with informed insights into the gambling industry, offering an unbiased lens through which one can navigate the vast online casino ecosystem. The commitment is to facts, transparency, and guidance, ensuring gamers can make informed decisions.
Main Points Covered in this Article:
Historical overview of Blueprint in Canada.
Distinctive features and benefits of the casino software.
Top slots offered for QC gamblers.
A comparative analysis of their software versus its competitors.
Legal intricacies: Licensing and operations in Canada.
Integration nuances of Blueprint software with Canadian online gambling platforms.
Developments and trends in Blueprint.
Handy tips and strategies for Quebec gamers.
Conclusive thoughts and recommendations for the discerning player.
With a solid foundation laid out in this introduction, readers can expect an in-depth exploration of Blueprint's monumental influence on Quebec's gambling industry in the subsequent sections.

Best Quebec Online Casinos with Blueprint Software
In the diverse and rapidly evolving online gambling world, Quebec has chosen Blueprint Gaming casinos. The strong reputation of their offerings and innovative designs has caught players' attention throughout Canada. Here, we shed light on three of the top Blueprint casinos that have made significant strides in the QC gambling scene.
Slots Magic

Slots Magic is renowned for its vast selection of over 2,700 slots, including live dealer options, table games, and scratchcards. Slots Magic collaborates with over 70 software providers, ensuring gamers have many choices.

Welcome Bonus:

Newcomers receive a generous $500 deposit match and 50 free spins. These spins can be used on 'Thor the Trials of Asgard,' subject to certain wagering requirements.

Notable Blueprint Slots:

Diamond Mine Megaways All Action Slot

RTP: 97.03%
Betways: 117649
Theme: Mining

Funky Pharaoh Jackpot King Slot

RTP: 93.53%
Betways: 10
Theme: Ancient civilizations

Barz Casino

Owned and operated by White Hat Gaming Limited, this gambling site offers a variety of playing options for Canadians. They hold an MGA and UKGC license, showcasing a trustworthy playing environment for all gamers.

Welcome Bonus:

Upon signing up, newcomers can claim up to $1,500 in bonus funds, with additional free spins included in each of the three deposit bonuses.

Notable Blueprint Slots:

Luck O' The Irish Go For Gold Slot

RTP: 95.50%
Betways: 10
Theme: Gems

Rise of Atlantis Slot

RTP: 96%
Betways: Pay Anywhere
Theme: Water world

LeoVegas Casino

LeoVegas Casino offers a rich tapestry of over 1,700 slots, live casino offerings, jackpots, and more. LeoVegas Casino diverse slot selection caters to a broad spectrum of gamers.

Welcome Bonus:

A lucrative welcome bonus awaits new users, providing up to $1,000 and 200 free spins across three deposit matches.

Notable Blueprint Slots:

Temple of Treasure Megaways Slot

RTP: 96.46%
Betways: 117649
Theme: Ancient civilizations

Fishin' Frenzy Megaways Slot

RTP: 95.02%
Betways: 15625
Theme: Fishing

Introduction to Blueprint Software
Blueprint software has established itself as a trailblazer in the casino world, with a history that intertwines with the transformation of online gambling. Emerging from the United Kingdom, this software developer has intricately shaped and evolved the digital gambling landscape, particularly in Quebec.
Background of Blueprint Gaming
Blueprint embarked on its journey in 2001, rooted in Newark, UK, initially aimed at catering to land-based casinos. The pivotal turn in its trajectory occurred when the online casino realm burgeoned, prompting this software provider to refine its focus toward creating premier online and mobile titles.
Their accomplishments over the years include:
2001 Foundation of Blueprint.
2008 Acquisition by the esteemed Gauselmann Group from Germany.
2009 Launch of their first online slot, Viz™.
2016 Introduction of the Jackpot King progressive slots.
2018 Release of the award-winning The Goonies™ slot.
2019 Multiple milestones, including the acquisition of UK developer Livewire Gaming.
2020 Launch of the innovative Lightning Spins™ mechanic.
2021 Set new progressive jackpot record with Deal or No Deal™ Megaways™.
2022 Secured an Ontario gambling license.
Blueprint's Global Presence
Its strategic alliances and international partnerships have marked Blueprint Gaming's ascendancy in the gambling sector. As a subsidiary of the Gauselmann Group since 2008, they have expanded their horizons to dominant gambling markets such as the UK, Italy, and Germany.
Today, their distinctive software powers over 100,000 slot machines worldwide. Affiliations with regulatory bodies such as the MGA, the UK Gambling Commission, and the Alderney Gambling Control Commission further cement their global recognition.
The Rise of Online Gaming in Quebec
Quebec has experienced a notable rise in online casinos, and Blueprint Gaming has been pivotal in driving this change. Blueprint's innovative software and casino games have added a fresh dimension to the province's online casino scene, making them a sought-after choice for many gamblers.
Impact of the Pandemic

The pandemic-induced environment, characterized by loneliness and boredom, has driven many individuals to online casinos. As physical activities and social gatherings were restricted, many sought the virtual world for entertainment and comfort.

Cultural Significance

Quebec's rich cultural tapestry, deeply influenced by French traditions, has played its part in popularizing certain titles. Classics such as roulette and baccarat have become more than just casino games; they are now part of Quebec's cultural lexicon.

Espacejeux's Role

Espacejeux, under the guidance of Loto-Québec, has established itself as Quebec's premier online gambling platform. Its diverse slot offerings and trusted platform have made it a favourite among Quebec's online gamers.

Revenue Insights

By 2022, Quebec's contributions to the online gambling sector were significant, accounting for roughly 20% of Canada's overall revenue. Loto-Québec's online lottery sales further attest to this growth, with a staggering 12.7% of the total segment revenue, reflecting the province's burgeoning enthusiasm for online casinos.

Features & Benefits of Blueprint Casino Software
Blueprint Gaming has carved a distinct niche in the dynamic online casino world with its innovative software. With an emphasis on diverse casino game variety, robust security, fair play, seamless user experience, and intuitive interfaces, they have consistently delivered beyond expectations. By offering free Blueprint software trials, they make it easier for potential clients to gauge their offerings firsthand. Their commitment to excellent customer service further elevates their reputation in the market.
Game Variety & Quality

Blueprint Gaming is renowned for its broad and varied casino game portfolio that caters to various preferences. Their offerings are a harmonious blend of classic titles and contemporary innovations, ensuring Canadian gamers of all tastes find something they like.

Notable features include:

A diverse range of slots with varying themes and mechanics.
Progressive jackpot titles that promise substantial wins.
Unique and proprietary casino game mechanics like Power 4 Slots™.

Security Measures & Fair Play

For Blueprint, player trust is paramount. The company has implemented robust security measures to ensure data integrity and user safety, especially for its user base in Quebec and throughout Canada.

Some standout features include:

Use of certified software to maintain the highest quality standards.
Implementation of Random Number Generators (RNGs) ensuring casino game fairness.
Firewalls to safeguard against unwanted web traffic.
Secure Socket Layer (SSL) technology to encrypt and protect user data.
Multiple deposit options, partnering with reputable financial institutions for safe transactions.
Transparent display of payout percentages and promotion of responsible gambling.
Regular audits, compliance checks, and third-party trials to address any disputes and ensure utmost transparency.

User Experience & Interface

Blueprint's software is a testament to their dedication to user satisfaction. Recognizing the importance of a seamless user experience, they've integrated design principles that resonate with gamblers.

Some of these features include:

Carefully selecting colour palettes that are appealing and in line with slot themes.
Streamlined navigation ensures easy access to different sections of their platform.
An optimized registration process that is both secure and user-friendly.
An enhanced betting process that simplifies wager placements.
Prioritization of User Experience (UX) to ensure satisfaction at every touchpoint.
A user-friendly interface designed with the player's ease in mind.

Top Games Offered by Blueprint for QC Gamblers
Blueprint Gaming, an industry leader in casino software, offers a myriad of fascinating casino games tailored to captivate the spirit of Canadian gamers. From the innovative designs of Blueprint online slots to the nostalgic appeal of table games, this software provider has left an indelible mark on the gambling community.
The distinctive charm of their offerings, especially the Blueprint slots, captures players' imagination, offering them many choices, from traditional to modern spins. In this segment, we will explore Blueprint's offerings, from their most loved slots to player-favorite titles that resonate with the Quebec audience.
Slot Game Highlights
Blueprint has undeniably set the gold standard with its slot offerings.
Here's a look at some of the shining stars from the Blueprint slots collection:
Megaways Series: Acquired from Big Time Gaming, the Megaways mechanic has revolutionized the slot-playing experience. Slots like Safari Gold Megaways, Deal or No Deal Megaways, and Eye of Horus testify to their commitment to innovation.
Jackpot King Series: An enticing progressive system, the Jackpot King series has been a hit among players, with titles like The Goonies being the latest entrant. Accompanied by the Royal and Regal pots, this series promises grand rewards.
Movie and TV Show Branded Slots: Adding a touch of Hollywood to the playing experience, they offer branded slots like Ted, Austin Powers, Beavis and Butt-head, and the iconic The Naked Gun.
Table Games & Live Casino Options
While Blueprint is primarily celebrated for its slots, its prowess extends to table games and live casino options as well. Though the main spotlight is on their slot offerings, they ensure a well-rounded experience for those who fancy the classics of the gambling world.
Quebec Player Favorites
Blueprint slots and other offerings have found a special place in the hearts of QC gamers.
Some standout favourites include:
Megaways Series: Specifically, slots like Safari Gold Megaways and Deal or No Deal Megaways have been a hit.
Jackpot King Series: Slots like The Goonies and other titles from this series have resonated well with the Quebec audience.
Pub Fruit Series and Merkur: These slot offerings provide a nostalgic trip down memory lane, making them an instant hit.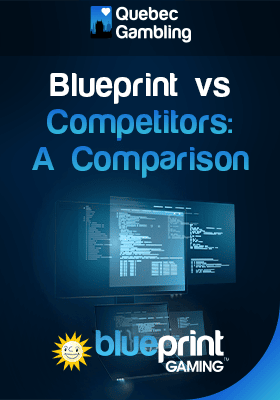 Blueprint Casino Software vs. Competitors
In the ever-competitive world of online casinos, numerous software developers battle to deliver unrivalled playing experiences. Among these, Blueprint Gaming shines through with its impressive software. What makes them a prominent figure in the online gambling industry?
It isn't just about the sheer diversity of their slot offerings but also their commitment to a truly immersive and player-centric experience. While many contenders strive to claim the top spot, Blueprint Gaming holds its ground through its unique selling points, strategic market positioning, and positive feedback from its extensive player base, particularly in regions like Quebec.
Unique Selling Points of Blueprint
Blueprint Gaming stands out, and it's not without reason. Their slots and other offerings testify to their innovative spirit and player-centric approach.
Some of their standout features include:
Diverse Casino Offerings Range: Their titles cater to a broad spectrum of gamers, from novices to seasoned pros, with a range that spans from simple slots to intricate ones.
Customizable Gameplay: They take user experience up a notch by offering customizable options, allowing gamblers to select their preferred language and currency, tailoring the experience to individual preferences.
Innovative Features: Whether a player chooses a straightforward slot or a more complex title, Blueprint Gaming never disappoints. Features like the Megaways system, multipliers, cascading symbols, and free spins keep gamers hooked.
Mobile Optimization: In today's fast-paced world, mobility is key. Their playing offerings are designed to be mobile-optimized, ensuring smooth gameplay across tablets, smartphones, and desktops.
How it Stands Against Major Rivals
While Blueprint Gaming boasts several commendable features, it operates in an industry with notable giants like Playtech, Microgaming, NetEnt, and IGT. Each of these competitors brings its unique offerings to the table. However, what gives them an edge is their adaptability and continuous innovation.
The likes of the Megaways system, a defining feature of Blueprint Gaming, is an example of how the company stays ahead by reinventing the playing experience. Moreover, their emphasis on customizable gameplay ensures players get a tailored experience, setting them apart in a market where one-size-fits-all often prevails.
Feedback from QC Gamers
Blueprint's commitment to delivering unparalleled experiences is evident in its offerings and echoed in the feedback from Quebec players. Many have lauded their extensive casino titles, praising their range and the ability to cater to both rookies and seasoned gamblers.
The immersive nature of their slots, marked by features such as multipliers and the Megaways system, has been a significant draw. Additionally, the mobile-optimized nature of Blueprint games ensures gamblers in Quebec can enjoy seamless sessions on the go, a feature many have come to appreciate and expect in today's digital age.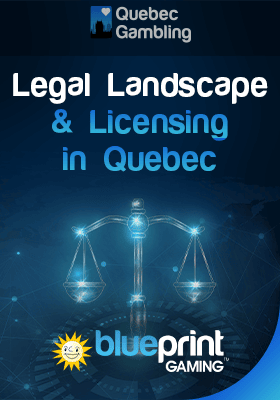 Legality & Licensing in Quebec
When discussing the evolving landscape of online casinos in QC, Canada, Blueprint Gaming remains at the forefront, ensuring its software fully complies with the region's specific regulations.
Quebec's Stance on Online Gambling
The province of Quebec has always been proactive regarding regulating its gambling landscape. When the Criminal Code of Canada provided provinces with the autonomy to frame their gambling rules, Quebec quickly established its own regulatory framework.
The province's approach to online gambling operates under the purview of Lotto-Quebec, leading to the inception of the Espacejeux website. This platform is the sole legal online gambling entity, supervised by the Quebec Alcohol, Racing, and Gaming Commission. Espacejeux offers many online gambling options, encompassing:
Lotteries
Casino games
Skill games
Poker
Bingo
Sports betting
Furthermore, it's essential to note that for individuals to participate in any of these playing options, they must be 18 years old.
Blueprint's Licensing Details
Safety and credibility form the bedrock of Blueprint's operations. Their commitment to securing players is evident in the robust anti-tampering systems integrated into their slots, safeguarding against any potential hacks. Additionally, they ensure that all their playing offerings are RNG-certified, undergoing regular tests by esteemed agencies to guarantee fairness.
Key licensing credentials of Blueprint Gaming include:
A valid license from the UK Gambling Commission.
A license from the Malta Gaming Authority.
Both these bodies are renowned in the online gambling industry, attesting to Blueprint's compliance and safety standards. However, while this software developer ensures its casino games are fair, gamers should exercise caution in selecting the right casino platform to maximize their playing experience.
Ensuring Safe Gambling for Canadians
This software developer is acutely aware of its responsibility towards promoting safe gambling. While they may not engage directly with the gambling audience, their commitment to fostering responsible gambling practices is unwavering. This commitment transcends their internal operations and extends to their partnered operators, who are supported in their initiatives to protect players.
Some of their responsible gambling measures include:
Recognizing and addressing the potential risks some individuals face with gambling.
Embedding safer gambling principles from the early stages of the development to its release.
Holding licenses from multiple regulated jurisdictions to manufacture, supply, and maintain online casino titles.
Regular audits, both internal and external, to ensure they uphold their responsibility as a safe supplier of casino playing products.

Integration with Casino Platforms in Canada
In the dynamic world of online casinos, Blueprint Gaming has set itself apart through the innovative nature of its software. The integration of their software with Canadian casino platforms demonstrates the company's dedication to providing seamless playing experiences for Canadians.
This commitment to integration extends beyond mere gameplay, ensuring technical finesse, fostering beneficial partnerships, and prioritizing user data protection. With the advent of the Blueprint app and the expansive capabilities of their software, gamblers in Quebec can now enjoy enhanced playing like never before.
Technical Integration Aspects
Blueprint's approach to software integration is technologically forward-thinking. Their reliance on HTML5 technology to power their slots is a testament to this commitment.
The advantages of using HTML5 are manifold:
Cross-Device Compatibility: Whether gamers are on mobile or desktop devices, the video and audio quality remains consistently high.
Versatility: Titles can be accessed on any device without compromising on performance.
Future-Proofing: HTML5 ensures casino products remain compatible and run smoothly as browser technologies evolve.
Partnerships with Local Casinos
Their partnership with Loto-Québec underscored Blueprint's strategic vision for expansion within the Canadian market. Since single-event sports betting was introduced, the Canadian gambling market has seen a surge in interest from operators and suppliers alike. This collaboration has enabled a range of slot titles to go live, further cementing their strong presence in Canada.
This partnership was executed seamlessly, with the integration happening via the Scientific Games platform, thus demonstrating this software developer's adaptability and strategic prowess in collaborating with industry leaders.
Player Data Protection
Ensuring the privacy and security of user data is paramount for Blueprint Gaming. When integrating with casino platforms, several stringent measures are in place to protect player information:
TSL and SSL Protocols: These protocols establish a secure and encrypted link between the web server and the player's browser. This encryption is critical for preventing unauthorized access that could result in data breaches or financial losses.
ID Verification: By mandating gamers to provide ID or passport details during sign-up, they ensure that only legitimate players access the platform. This method is instrumental in curbing fraud and preventing underage gambling.
Two-step Verification: Enhancing login security, this verification requires not just the login details but also a code sent to the player's mobile device to verify their identity.
Secure Payment Protocols: This software developer ensures that financial transactions are conducted securely by integrating verified and trustworthy payment methods. With added layers of two-factor authentication, encryption, and fraud detection tools, these methods offer robust protection against potential security breaches.
Future Prospects & Developments
As Blueprint Gaming continues to carve its global niche, its prospects for Canadian gamers grow even brighter. Not only do they have an array of enticing slot releases in the pipeline, but they're also poised to introduce technological innovations and comprehensive expansion plans in QC. Given the success of Blueprint events and the popularity of their slots, there's no doubt that this developer is set to shape the future of online gambling in the region.
Upcoming Title Releases
Blueprint Gaming is known for its innovative and engaging designs. Quebec players have much to anticipate, with a slew of fresh titles in the offing:
Diamond Mine 2 Megaways™
A sequel to the iconic Diamond Mine, this slot promises to bring back the explosive dynamite digging action with a Megaways twist. With its predecessor achieving cult status among gamers, this follow-up is bound to be a hit.
Slots O' Jackpots™ Jackpot King™
They have given a refreshing take on the cherished Irish-themed slot. With vibrant symbols and 20 paylines, gamblers will be in for a treat as they search for their pots of gold.
Mega Bars
Find the Lady: Expanding the popular Mega Bars series, this edition introduces the Find the Lady feature, where successful picks can multiply payouts.
Tech Advancements in the Pipeline
Blueprint Gaming is not just about producing engaging slots; they're also dedicated to harnessing the latest in technology for an unparalleled user experience:
Live Dealer & Mobile Gambling

This developer is expected to tap into the realms of live dealer experiences and optimized mobile gambling, enhancing the immersive feel of their titles.

3D Animation & Blockchain Technology

They have given a refreshing take on the cherished Irish-themed slot. With vibrant symbols and 20 paylines, gamblers will be in for a treat as they search for their pots of gold.

Mega Bars

Advancements in 3D animation will bring characters and scenarios to life, while the use of blockchain technology can ensure transparent and fair gambling.

Data-Driven Gambling & Gamification

They aim to personalize playing experiences by leveraging big data. Coupled with gamification elements, players can expect more engaging and rewarding sessions.

VR, AI & Gesture Control

Blueprint is gearing towards integrating Virtual Reality and Artificial Intelligence in their offerings, ensuring a cutting-edge playing experience. Gesture control can further revolutionize the way gamblers interact with the game.
Expansion Plans in Quebec
Blueprint Gaming's ambitious plans for Quebec are evident in their recent partnership with Loto-Québec. By leveraging its extensive suite of casino playing options, Loto-Québec is now offering a broad selection of renowned titles from this developer.
Notable inclusions are Megaways hits like Buffalo Rising and Prospector, along with branded games like Rick and Morty Wubba Lubba Dub Dub and The Goonies. Moreover, slots featuring their Jackpot King progressive system are now available, offering players chances at substantial Jackpot King prizes, as well as the smaller Royal and Regal pots for frequent payouts.
Tips & Tricks for Quebec Players
For Quebec players, delving into the exhilarating world of Blueprint Gaming slots presents many opportunities to not only have fun but also to potentially secure some wins. But how can one maximize their experience with Blueprint software?
Whether you're gearing up for one of the fascinating events or simply looking to enjoy some free playing options at home, a strategic approach can significantly enhance your session.
Maximizing Wins with Blueprint Games

Blueprint games, with their array of captivating designs and mechanics, promise players an unforgettable experience. To optimize your chances of winning these games, consider the following:

Learn The Rules: Before diving into any slot, familiarize yourself with its rules. Understanding the nuances can be a game-changer.
Check The RTP Percentage: Titles with higher Return to Player (RTP) percentages often offer a better chance of a return over extended play.
Strategize with Budgeting: It's essential to set a gambling budget and strictly adhere to it. This helps in mitigating risks.
Wisdom in Wins and Losses: Avoid the temptation to chase after losses. Similarly, it might be wise to walk away on a high after a notable win.

Staying Safe & Responsible

Engaging in this developer's offerings can be thrilling, but it's imperative to maintain a balance. Here's how gamers from Canada can ensure a responsible gambling experience:

Mindset Matters: Always approach gambling with the expectation of potential loss. It should be seen as a form of entertainment, not a primary income source.
Stay in Control: Refrain from gambling when emotionally compromised, be it anger, loneliness, or stress. Emotional decisions can lead to regrettable outcomes.
Avoid Financial Risks: Keep credit cards at bay and never borrow money for gambling.
Stay Sober: Alcohol or drugs can impair judgment. It's best to stay clear-headed while playing.
Time Management: Set aside specific durations for gambling and ensure you engage in other forms of entertainment. Balance is crucial.

Enhancing the Gaming Experience

With Blueprint software, the possibilities are vast. To elevate your online casino session, consider these tips:

Explore Free Casino Slots and Games: Before committing with real money, try out free slots to get a feel of the game.
Join the Excitement of Tournaments: Compete in casino tournaments. Not only do they heighten the thrill, but they also offer unique rewards.
Dive into Progressive Jackpot Slots: These slots offer ever-increasing jackpots, presenting an opportunity for massive wins.
Leverage Bonuses and Loyalty: Make the most of online casino bonuses and loyalty programs. They can provide added value to your casino experience.
Recommendations
As we dive into the transformative influence of Blueprint Gaming on Quebec's gambling landscape, it's evident that they have left an indelible mark. From upcoming game releases to technological advancements and strategic expansions, this developer is firmly positioned to redefine the online casino experience for QC gamers. This culmination of insights from the Blueprint app, playing events, and the overall casino suite offers valuable recommendations for both novice and experienced players.
Overall Impressions of Blueprint
The sentiment surrounding this developer's software is overwhelmingly positive. Gamers frequently laud the innovative game designs and features, appreciating the blend of traditional and modern themes.
Here are some reflections from the casino community:
"Blueprint Gaming slots always have a unique twist that keeps me coming back for more!"
"Their games aren't just about luck; they're about immersing yourself in a story."
"Every time I attend a Blueprint event, I am always amazed by their commitment to pushing the boundaries in gaming."
Making the Most of Blueprint Games
For those looking to enhance their playing experience, here are some recommendations:
Engage in Chat Rooms: Dive into online casino chat rooms to discuss upcoming slots, share strategies, and learn from seasoned gamblers.
Select Trustworthy Sites: Ensure your chosen platform is licensed, offers top-tier slots, and emphasizes user security.
Maximize Bonuses and Offers: Utilize any available bonuses or promotions upon registration. However, always be mindful of the terms and conditions associated.
Budget Management: Prioritize setting a gambling budget and stick to it. This ensures sustainability and reduces potential financial strains.
Incorporate Breaks: Remember that constant gameplay can lead to fatigue. Regular intervals allow players to refresh and make better decisions.
Future Predictions & Trends
Blueprint Gaming, along with the wider online casino sector, is on an upward trajectory, indicating certain future developments for Quebec's online casino landscape.
Firstly, a palpable buzz surrounds the potential integration of Virtual and Augmented Reality by this developer. If realized, this could transport players into unprecedented immersive gaming realms. Alongside, as the grip of data science tightens over the industry, casinos are poised to offer games fine-tuned to individual playing behaviours and preferences.
Additionally, in a world rapidly embracing digital currencies, it wouldn't be surprising if Blueprint Gaming adopts cryptocurrency options, giving players an expanded range of transaction methods. Parallelly, the burgeoning world of metaverse platforms beckons. This developer might soon explore these virtual expanses, conceptualizing entire casinos and redefining playing experiences in these vast digital ecosystems.
Lastly, at the heart of their appeal are their innovative slots. Given their track record, the industry eagerly anticipates a continuous evolution in slot themes and mechanics, always keeping in step with, if not ahead of, the dynamic preferences of the casino community.
Conclusion
The rise of Blueprint Gaming software has undeniably etched a significant mark on the casino industry in Canada. This transformative wave has not only reshaped the contours of online casinos but has also infused a fresh lease of life into players' experiences.
Their entry into the local gambling scene hasn't merely been about offering another platform and redefining standards. Through their impeccable software and the dynamic Blueprint app, they've crafted experiences that resonate with the modern gamer's ethos. A glance at QuebecGambling.ca and various other platforms elucidates the buzz around their slots, capturing the collective imagination of the Quebec casino community.
In terms of contribution, this developer has bridged technological prowess with user-centric design, setting the stage for a promising future. With Blueprint Gaming's continued focus in Canada on understanding local nuances and adapting to the ever-evolving gaming preferences, the horizon appears even brighter.
Recap Points:
Unprecedented impact of the software on online casinos.
Their slots' remarkable blend of innovation and player engagement.
The introduction of the user-friendly app elevates playing experiences.
The robust potential of this developer in Canada signals a promising future in the industry.
FAQ
Is Blueprint Software legally accepted in Quebec?

Yes, their software is legally accepted in Quebec.

How does Blueprint's game variety compare to other software providers in Quebec?

This developer offers a diverse range of titles, often considered competitive or even superior to other software providers in Quebec.

What security measures does Blueprint Gaming employ for its Quebec players?

They utilize advanced encryption technologies and stringent data protection policies to ensure the safety of their gamers.

Which Quebec casinos have integrated Blueprint Software?

Multiple Quebec casinos have integrated their software, but you'd need to check specific casino listings for exact names.

Are there any exclusive Blueprint slots tailored for Quebec players?

As of now, there aren't specific slots tailored exclusively for Quebec players, but Blueprint constantly updates its game library.